Prep 20 mins
Cook 55 mins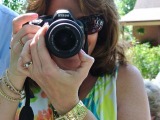 This pie is so good I actually ASK people to give me zucchini so I can make it. If you like pumpkin pie, you will probably enjoy this pie as well. (In fact, when fall rolls around, this is the recipe I use to make my pumpkin pies.) The original recipe is from my husband's great aunt Gin. I have found it works well to freeze the puree for winter use. I just warm it slightly in the microwave before adding it to the other ingredients. That way it will be more like when I make it with freshly cooked zucchini. I have also found it works fine to use a can of sweetened condensed milk in place of the evaporated milk, sugar and honey.
Directions
To make the puree, skin the zucchini and cut it up into 1-inch chunks.
Microwave on high, until easily pierced with a fork, about 9 minutes, stirring once.
Pour off any water (very important!).
Puree in the blender.
Mix zucchini puree, honey and dry ingredients together.
Warm milk and add with eggs to zucchini mixture.
Use hand mixer to blend well.
Pour into unbaked 9-inch pie crust.
Bake at 425°F for 10 minutes, then reduce to 350°F and bake for 40-45 minutes longer; OR until knife inserted slightly off center (about half way between the center and edge) comes out clean, center will be wobbly.
Cool for about 2 hours and then chill for several, if desired.
Serve with whipped cream.
Reviews
Most Helpful
Outstanding!!
My husband was wary, but a taste won him over! He wanted me to invite his parents over and cook one for them! We actually both like it better than pumpkin pie and our sons ate it up quite happily, wanting seconds, which is rare for them as far as dessert goes. This weekend, I was given some zucchini and our whole family was excited because it means a chance for more zucchini pie (which I'm cooking right now)!
Thanks for a wonderful recipe!
Note: I actually decreased (brown) sugar and honey to about half a cup total since I was running low. Also used a whole grain pie crust (using my no roll pie crust) and rice milk.
I LOVE this pie!
This is how I changed this recipe to fit my low-carb diet; I left off the crust, and sprayed the pie plate with PAM before baking. I used Splenda instead of the honey, and substituted diluted cream for the evaporated milk. Everything else I did just as written. It smelled yummy and I was so happy to have a "real" dessert! Very good recipe.
This pie was sooo good, but watch how much salt u put in. It called for 1 tsp and I noticed it tasted a little salty so I added a little bit more sugar. I didn't have any white sugar and so I used brown and I also added .5 tsp cayenne pepper as we like a little heat in our food. I also after cooking the zucchini and draining it laid it on paper towels to drain before putting it in the food processor. I served it warm after about an hour half cooling after we had dinner. I served my husband a small piece thinking he'd be full from dinner and he was like "come on give me a big piece" so that's what I did and he said; "best ever" Enjoy everyone!
Summer Central