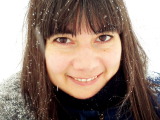 A very uninspired name, that's for sure, but I bet you'll remember them anyway once you've tried them! A recipe from 'The Mennonite Treasury of Recipes,' this is still a favourite among every Mennonite family that I know! My mom never wanted to make these for me as a kid, I guess because they're terribly sweet (and you know how bad sugar is for kids!!), but now that I don't live under my parents' roof anymore, I can make them as often as I want. Problem is, between my husband, daughters and I, even a double batch doesn't last very long!! I usually do use a little less sugar because mom was right, they are quite sweet. Freezes really well -- if they make it to the freezer! (Yield is approximate; depends how big you make your cookies.)
Directions
In a saucepan over medium heat, bring first 3 ingredients to a boil.
Cook for 3 minutes, stirring constantly. Remove from heat.
In a large mixing bowl, combine remaining ingredients and add milk/sugar/butter mixture.
Mix thoroughly and drop by tablespoons onto wax paper-lined cookie sheets to harden. Place in fridge or freezer to speed the process.