Slow-Cooker Cornbread Dressing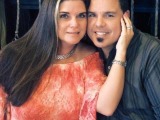 From Southern Living Magazine. Southern Living says in the intro to the recipe, that it received one of the highest ratings in their test kitchen.
Directions
Stir together cornbread crumbs, stuffing mix, and next 8 ingredients in a large bowl.
Pour conrbread mixture into a lightly greased 5 1/2 or 6-quart slow cooker.
Dot with butter.
Cook, covered, on LOW 4 hours or until cooked through and set.
Note: For testing purposes only, Southern Living used Pepperidge Farm Herb Seasoned Stuffing mix. They also used 2 - 7.5 ounce packages Martha White Yellow Cornbread Mix prepared according to package directions in 8-inch square pans. The baked cornbread made 7 cups crumbs so they suggest freezing the rest.
**Cook time does not include preparing the cornbread.