Healthy - Black Devils Food Cake
This is a realty way to get your devils food cake and eat it too!
Make and share this Healthy - Black Devils Food Cake recipe from Food.com.
Directions
Preheat oven to 350 degrees. Spray a 13x9x2-inch pan with vegetable oil spray. Dust with flour; shake off excess. In a large mixing bowl, sift together flour, sugar, cocoa powder and baking soda. Whisk in applesauce, buttermilk and vegetable oil.
In a small saucepan, bring coffee to a boil over medium-high heat. Stir gently into batter.
Mixture will be soupy. Pour into pan. Bake 35 to 40 minutes, or until a toothpick inserted in center comes out clean. Serve warm or let cool completely.
Servings: 20.
Reviews
Most Helpful
Moist and delicious! No one knew it was a "light" cake. I baked it in a bundt pan (about 50 minutes) and then drizzled it with a little confectioner's sugar, vanilla and milk combination. A huge hit! Thanks for sharing.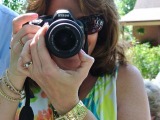 Great recipe to enjoy chocolate cake without all the guilt. To me, the texture gave it away as being healthy, but it didn't stop me from enjoying it with a little scoop of vanilla ice cream. It was super simple and quick to make. Thanks for sharing the recipe!
This cake was delicious! I made it for my Mother's Birthday and it was a big hit. Very moist and flavorful. I added a tsp. of Vanilla to the recipe and used French Vanilla coffee. I would definitely make this cake again and recommend it to anyone looking for a delectable chocolate cake. Thanks for sharing!